Sorry, this product cannot be purchased.
Lopi Probuilder 72 Linear GSB – Discontinued

The ProBuilder 72 is over 1.8 metres wide and one of the longest linear or landscape style fireplace on the market. At 1829mm in width it is the largest sized model in the ProBuilder Series.
The ProBuilder 72  is the perfect choice for anyone seeking a beautiful, reliable and economical way to heat their home! With the ProBuilder Series, you get more heat for less; that's more features and benefits than any other value-priced linear gas fireplaces available, plus heavy duty construction and quality craftsmanship to ensure years of dependable warmth!
The ProBuilder 72 Linear features sleek, elegant styling and a contemporary fire viewing area that showcases tall dancing flames. This fireplace is designed to provide comforting radiant heat plus excellent natural convection to homes and living spaces up to 200sqm. The quiet twin fans are available to help increase the air flow distribution throughout your home. The GreenSmart Basic remote control is also offered as an available option with this model.
The Optional CoolSmart Wall allows you to install a TV or artwork  (recessed or face mounted) lower down on the wall above the fireplace.
Specs
| | |
| --- | --- |
| Heating Capcity | Up to 200sqm* |
| Mj Input | 43.8 Mj High NG/LPG | 32.1 Mj Low NG / 22.3Mj LPG |
| Kw Output | 6.56 |
| Installation Type | Zero Clearance |
| Venting System | Direct Vent - Natural Draft |
| Blower | Twin Blowers |
| Burner System | GreenSmart Basic |
| Remote Control | Optional |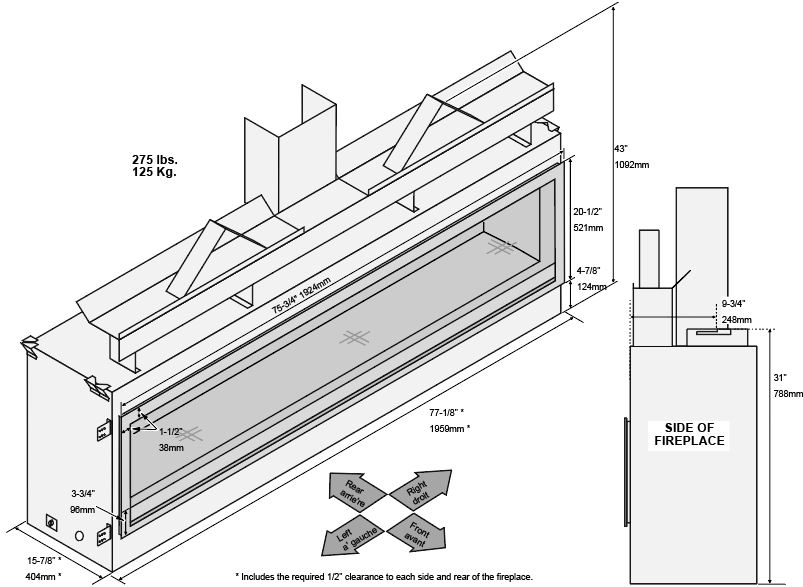 The Linear HO GS2 range offers more Media options, Ceramic Glass and more Megajoules Per Foot – providing more heat. (This includes the ProBuilder 72 GS2)
The Linear ProBuilder GSB series comes with basic Media options, Tempered Glass and has a lower heat output. (This excludes the ProBuilder 72 GS2)
---