Sorry, this product cannot be purchased.
Lopi 864ST GS2 – Discontinued

A home is a combination of dreams and choices, each a reflection of you. From the most intimate engraved details on a fireplace face to the grandest of fires, our fireplaces bring a sense of style to your home.
The 864ST GS2 maintains this tranquillity with a perfect balance between the firebox, logs and flames. The logs and fire have been carefully designed to give you a different look from either side. Compare the amazingly realistic nine piece log-set with any other see-thru fireplace on the market! The unique split-level Dancing-Fyre burner will give you a warm, yellow fire with glowing embers that your friends and family will have a hard time telling apart from a real wood fire.
The 864ST GS2, a fireplace with two points of view. You can personalise each room using a different face on each side of the fireplace. Choose one of the standard grill sets or even choose one of the beautiful upgrade faces.
Specs
| | |
| --- | --- |
| Heating Capcity | Up to 135sqm* |
| Mj Input | 39.5 Mj High 15.5 Mj Low NG 10.5 Mj Low LPG |
| Kw Output | 8.1kW |
| Visible Glass Size | 865 wide x 570mm high X 2 sides |
| Installation Type | Zero Clearance |
| Blower | Dual Blowers |
| Burner System | Dual Burner Dancing-Fyre, GreenSmart 2 |
| Accent Lights | Rear & Top Lights Standard |
| Remote Control | GreenSmart 2 Wall Thermostat Remote Standard |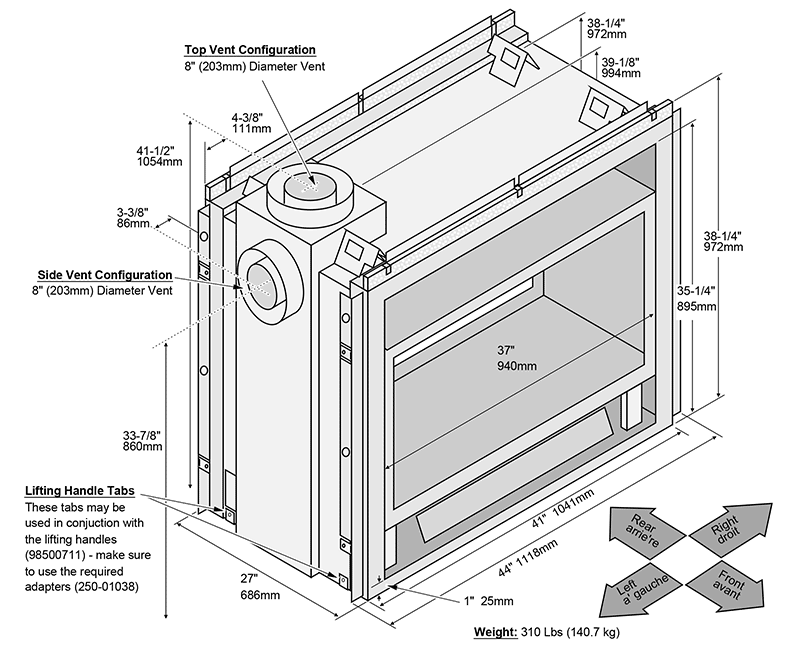 Yes. The Lopi 864ST GS2 allows for different log designs on each of the sides.
No. The fans on the Lopi 864ST GS2 can only distribute air equally between both sides.
---
You may also like…
Lopi 864 Clean Face 40K GS2

RRP from

$

9,415.00 View Details

Lopi 864 Clean Face 40K GS2

PLUS FLUE & INSTALLATION*

*Price excludes optional finishing items

The Lopi 864CF 40K GS2 is the new standard in high heat output traditional gas fireplaces. The 864 Clean Face range enables you can finish this fireplace in a minimal way without the need for grills or louvers.

The 864CF 40K GS2 is perfect for larger living spaces. This model features ceramic glass for increased radiant heat, 6 speed quiet blowers, GreenSmart 2 Technology, Comfort Control as well as overhead accent lighting and Ember-Glo lighting. Heating up to 185sqm* which can be turned down by 64% means this fireplace is suitable for many spaces and can be used all year round.

The 864 range features 864 square inches of viewing area. You have virtually unlimited flame variation with our Comfort Control switch and the flame control. Use all 42Mjs of flame on the coldest winter nights or turn it down to only 15Mj (NG) or 12Mj (LPG) for a romantic firelight on a warmer night. You can enjoy a full flame fire with maximum height or use the variable flame control to turn the flames lower when you want less heat. You can even operate the fireplace with no flame and just the overhead accent lighting and/or Ember Glo Lighting.

View Details